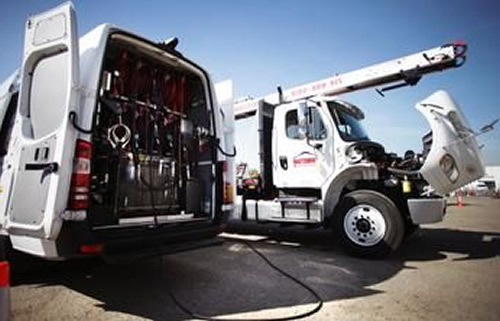 We Pride Ourselves In Our Knowledge Of Roadside Services To Get Your Semi Truck Back On The Road.
You were comfortably driving your semi-truck a few minutes ago, and this looked like a pretty routine day.
It wasn't long before you became aware that something wasn't right with your truck. You decided to stop driving for your own safety and the safety of others, because you are transporting a valuable load.
Now that you have taken a look at the problem, you realize it's a truck repair you can't handle! You do not want this breakdown to result in late shipments, missed sales, and lower profits. It's for that reason that you're here: to get experienced, trusted & prompt mobile semi truck repair near Tecumseh, MI.
Do not panic if your semi-truck breaks down! Avoid trying to repair the problem yourself. Call Next Level Semi Truck and Trailer Roadside Assistance right away! Commercial trucks can rely on our 24-hour roadside assistance.
We will get your heavy-duty truck back on the road before you know it, regardless of where it is, what time it is, or what type of heavy-duty truck repair it needs!
At R and R Road Service, our experienced service department will keep your vehicle in top condition.
Located in Monteagle, TN, our professional team is ready to serve all your car repair and maintenance needs.
We will go to your home or wherever you may broke down on the side of the road or get stuck in Monteagle and the surrounding areas. We will try to make it as stress free as possible for you to get going safely back on the road.
Serving Monteagle, our ASE certified technicians are ready to serve you with our fast response roadside service!
Our roadside service includes Tire Changes, Jump Starts, Lockouts, and Off Road vehicle recovery.